Gucci is a luxury fashion brand that offers a range of eyewear products, including sunglasses and prescription glasses. Gucci eyewear is known for its high-quality materials, unique designs, and attention to detail.
At Alexander Bain and Murray we are delighted to have Gucci as one of our brands in practive.  Gucci is a well-known luxury fashion brand that has been around for nearly 100 years. The brand is known for its high-quality materials and attention to detail, which extends to its eyewear line. Gucci glasses are crafted from premium materials like acetate, titanium, and gold, and are designed with stylish frames and unique details.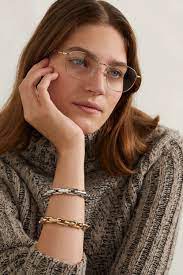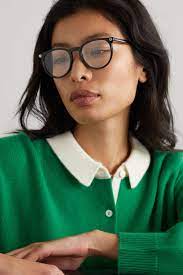 The latest range of sunglasses and optical frames embodies Gucci's signature designs. Drawing inspiration from the archive of the House, the eyewear collection combines emblematic codes with new details in an unexpected selection of shapes and styles.
Gucci eyewear is often adorned with the brand's iconic logo, as well as other distinctive details such as the interlocking G emblem or signature stripes. In addition to being stylish, Gucci eyewear also offers functional benefits such as polarized lenses for reducing glare and improving visual clarity.
Overall, Gucci eyewear is a popular choice for those looking to make a fashion statement with their eyewear while also enjoying high-quality craftsmanship and functional benefits.
Sunglasses
From cat-eye and heart frames to bold geometric designs, Gucci's selection of sunglasses for women are a creative departure from classic shapes.
Optical Frames
With a wide range of silhouettes from aviator to oversize, metal and acetate frames.
Gucci glasses are worn by a wide range of people, including celebrities, fashion influencers, and everyday individuals who appreciate luxury eyewear. Some notable celebrities who have been spotted wearing Gucci glasses include Rihanna, Jennifer Lopez, Harry Styles, Kim Kardashian, and Beyoncé, among others.
In addition to celebrities, Gucci glasses are popular among fashion enthusiasts and those who appreciate high-quality, luxury eyewear. The brand offers a range of styles to suit different tastes and preferences, from classic to contemporary designs.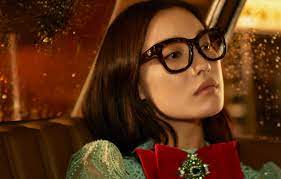 Ultimately, anyone who values quality, style, and attention to detail in their eyewear may choose to wear Gucci glasses so call into Alexander Bain and Murray and let our team help you find your perfect pair.